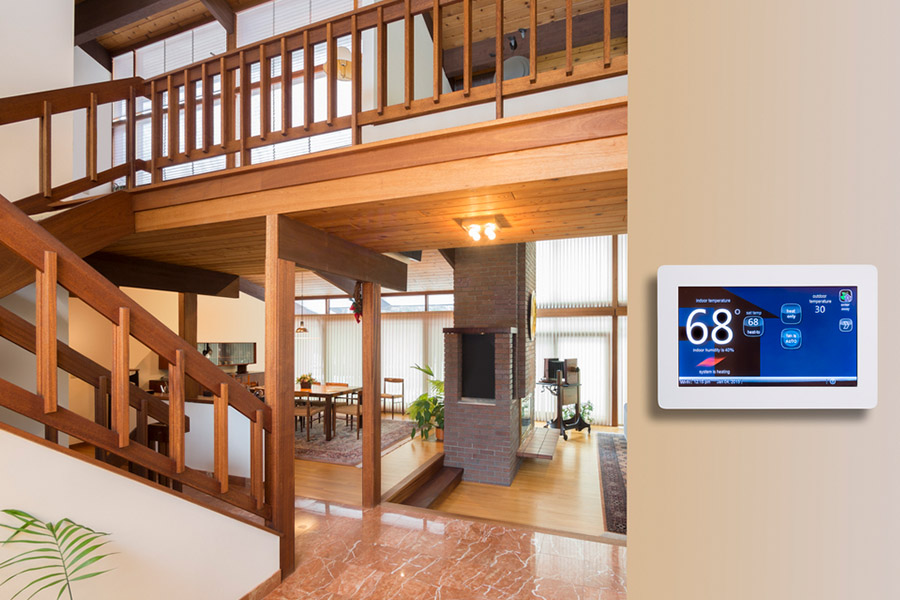 Why Install A Smart Thermostat In West Palm Beach? | Secure24 Alarm Systems
Today's smart thermostats have evolved far beyond the simple dial or switch for regulating your home's comfort levels. If you would like to install a smart thermostat in West Palm Beach, you will enjoy an abundance of comfort with less effort on your part. Equipped with easy Wi-Fi access, multi-room sensors, and the convenience of home automation, these innovative controls will bring down your utility bills and improve your home's overall comfort and safety.
What Are Smart Thermostats In West Palm Beach?
Once installed, your smart thermostat will work in a comparable fashion as the old version in regards to standard functionality. The style will likely be a bit more elegant, but you can still glimpse the present temperature reading. You will still increase or decrease the heat and A/C from the device, and it continues to allow you to quickly adjust settings for fan, heat, and cool.
However, if you install a smart thermostat in West Palm Beach, you'll get a nice addition of advanced possibilities. The reason for this is that the device is wirelessly linked into another network within your home, like your Google smart speaker or home security system. Using a central interface or smartphone app, you can prearrange your smart thermostat to alter the comfort levels in an automated manner at whatever times you choose or to react to different stimuli. In the end you have a house that's more comfortable and energy-efficient.
Why You Should Install A Smart Thermostat in West Palm Beach
There are a range of reasons to upgrade your standard unit to a smart thermostat:
● Ease of control through a cell phone app. You can direct the thermostat from a distance via a smartphone app like the intuitive platform from ADT. Are you feeling a bit overheated while you're struggling to get some rest? Just open your phone and lower the temperature from your bed. You can also inspect your home's temperature when on holiday with family, and alter the temp to save energy when your house is empty.
● Set a schedule. An innovative smart thermostat can be configured with one or more schedules for your HVAC system. Set various temperature adjustments to accommodate your family's needs. Reduce the heat when it's time to go to bed, then increase it again in the morning an hour or so before you arise. You might even design heating or cooling scenes for certain situations -- such as a scene for entertaining or another for when the fireplace is being used.
● Lower utility bills with home automation. A great benefit of smart thermostats is that they save money on your heating and cooling bill. You are able to simply alter the temperature as needed based on seasonal fluctuations, weather conditions, or your normal daily routine. You'll never throw money away heating a vacant residence. And when you set schedules, your thermostat makes automatic adjustments. A range of energy providers also extend incentives and rebates for qualifying models or situations.
● Utilize voice commands to direct your home. If you elect to install a smart thermostat in West Palm Beach, you may even configure it to operate with an Amazon Alexa or Google Home speaker. This allows you to manipulate your home's comfort through simple spoken commands.
● Join your thermostat to other home automation components. If your smart thermostat is incorporated within a complete home security system, you can link all your elements into an interactive group. This helps keep your home safe when emergencies arise. To illustrate, you can direct your thermostat to turn on the exhaust fan when your fire alarms sense excess heat.
Get A Smart Thermostat In West Palm Beach Today
When your current thermostat doesn't meet your needs, it's time to think about switching to a versatile "smart" model. These devices streamlined, easy to use, and can save money over the long haul. The greatest advantage is when you combine it with a modern home security system. Reach out to us today at (561) 291-7769 or submit the form below to inquire about your smart thermostat in West Palm Beach.
Communities Served Around West Palm Beach By Secure24 Your Local ADT Authorized Dealer